Regular price
Sale price
$89.99 USD
Unit price
per
Sale
Sold out
Please note: Your book may take up to 3 weeks to arrive! Your patience, understanding and patronage are so greatly appreciated, and I can't thank you enough for the support.

Notgeld: German Series Notes, 1918-1922 is the first catalog written primarily in English on the topic of German Serienscheine (Series Notes).

These Notgeld (German for "Emergency Money"), many of which are now over 100 years old, would combine visually striking imagery with the rich local histories, folklore, historical figures, architecture, scenery, politics and humor to capture the attention of collectors throughout the world.

Building off of the indispensable work of German collectors and researchers like Dr. Arnold Keller, Kai Lindman, Manfred Mehl, Hans L. Grabowski, Reinhard Tieste, Manfred Müller and many others, this book aims to provide an updated resource for experienced and beginner collectors alike.

Featured Inside:

Over 5,500 full color images, including many never before published until now.
Clear descriptions and updated pricing in US$.
Newly discovered issues and varieties.
Notes from more than 1,500 issuing authorities, compiled into a single comprehensive volume.
Product Details:
Hardcover
Full Color
424 Pages

Over 5,500 Images
First Edition (March 31, 2023)
ISBN:

979-8-9870629-0-6

Language: English

Dimensions: 8 ¹¹⁄₁₆" x 11 ¼" x 1 ⁵⁄₁₆", or 22cm x 28.6cm x 3.3cm
View full details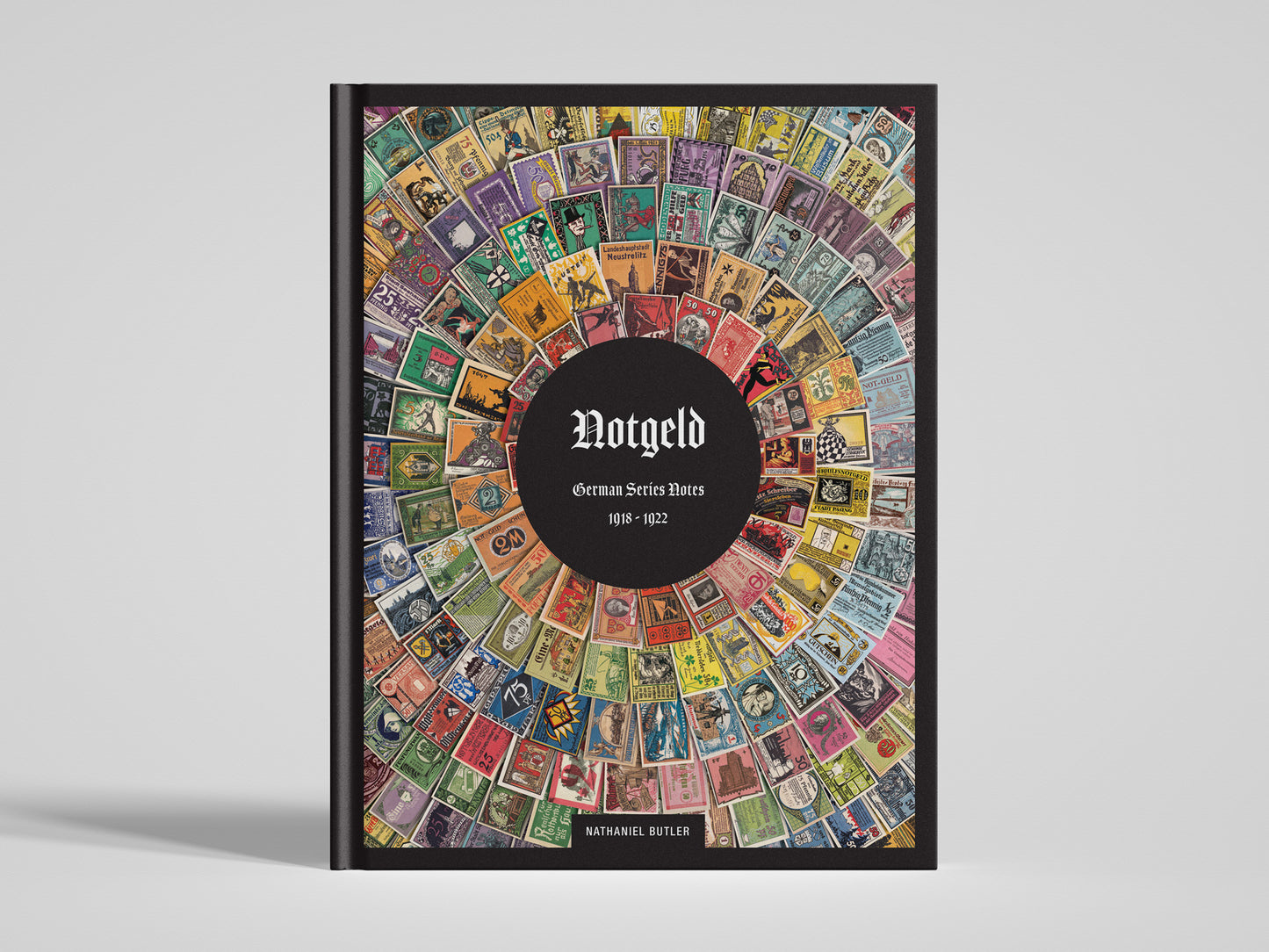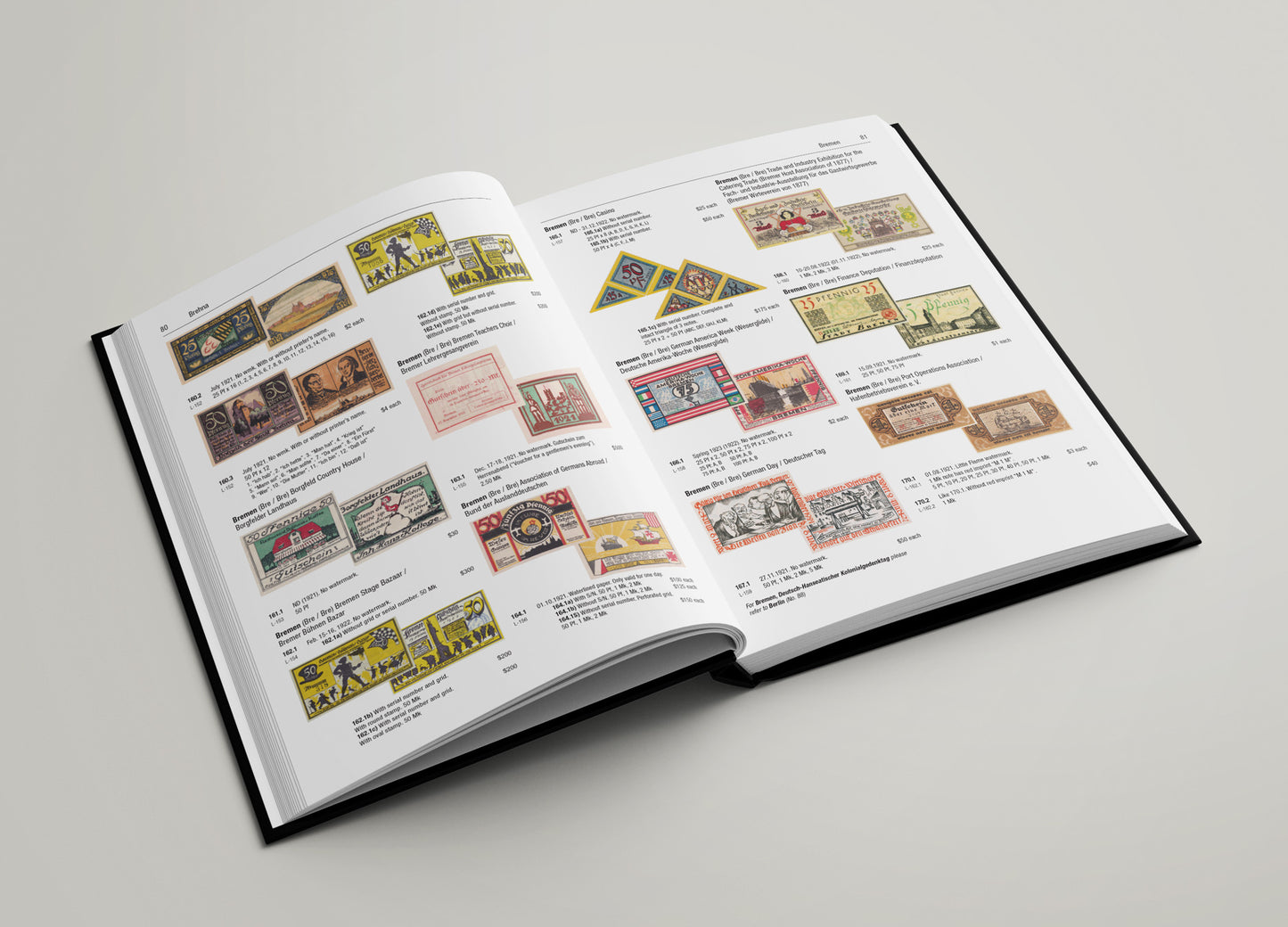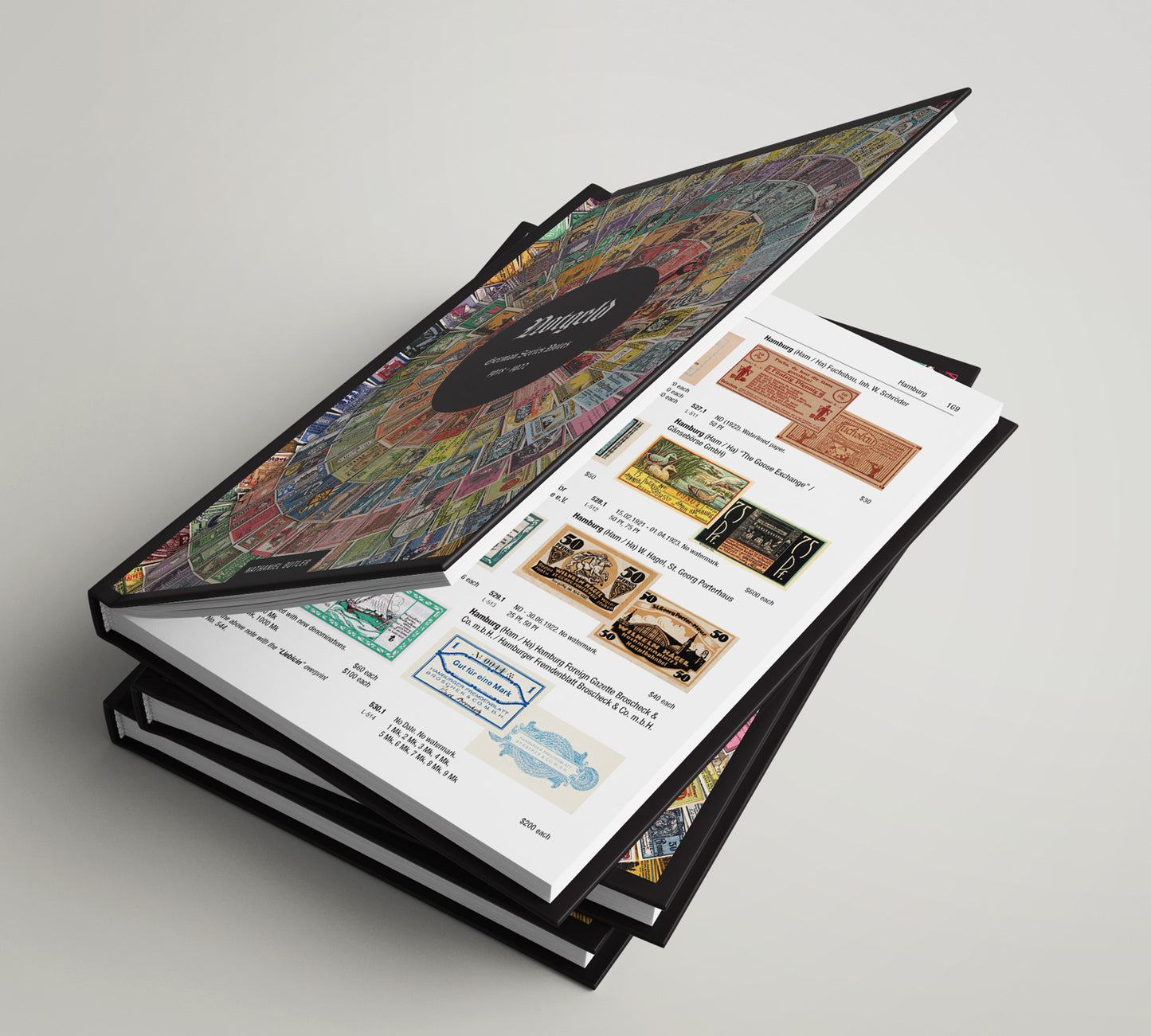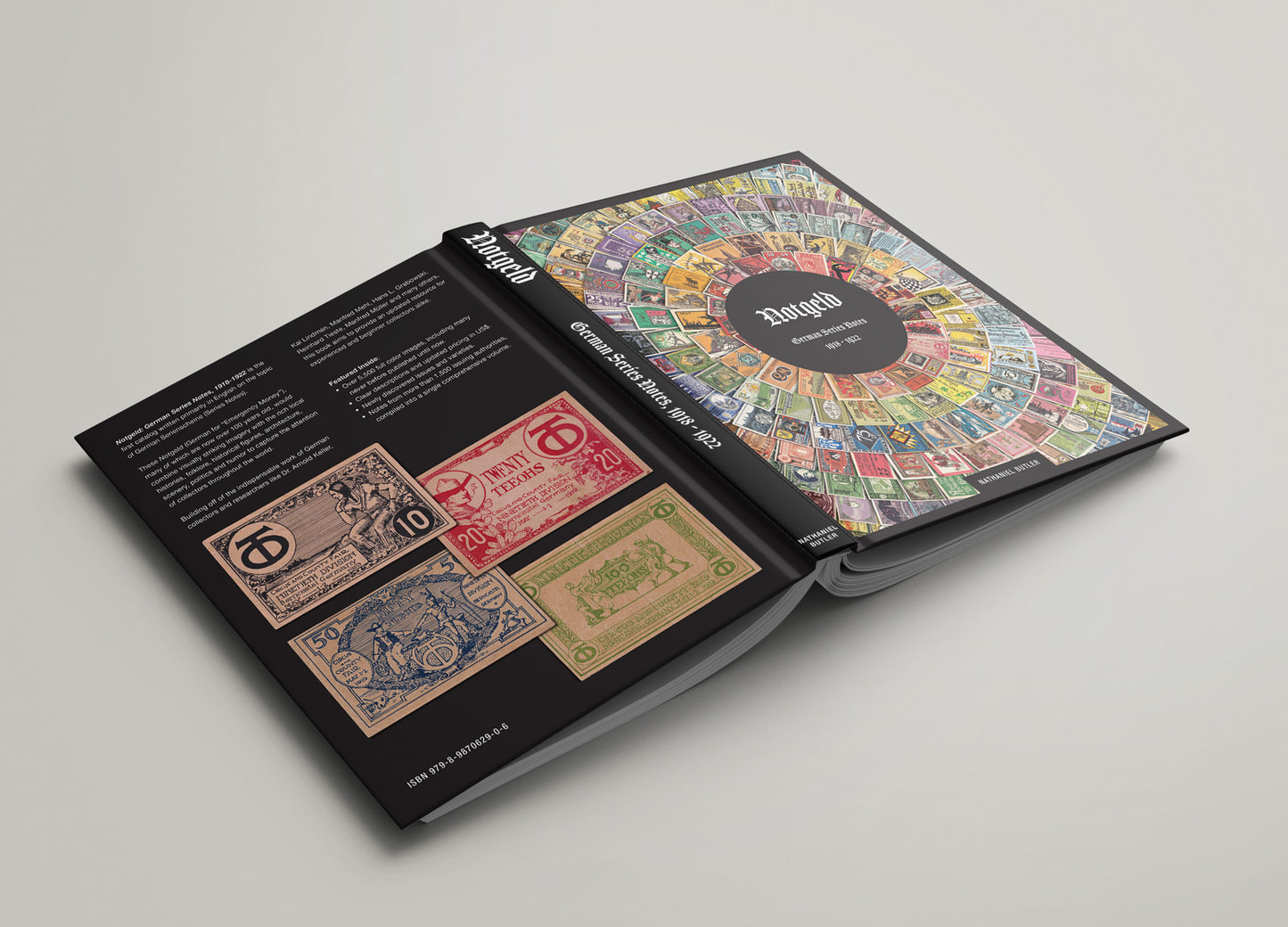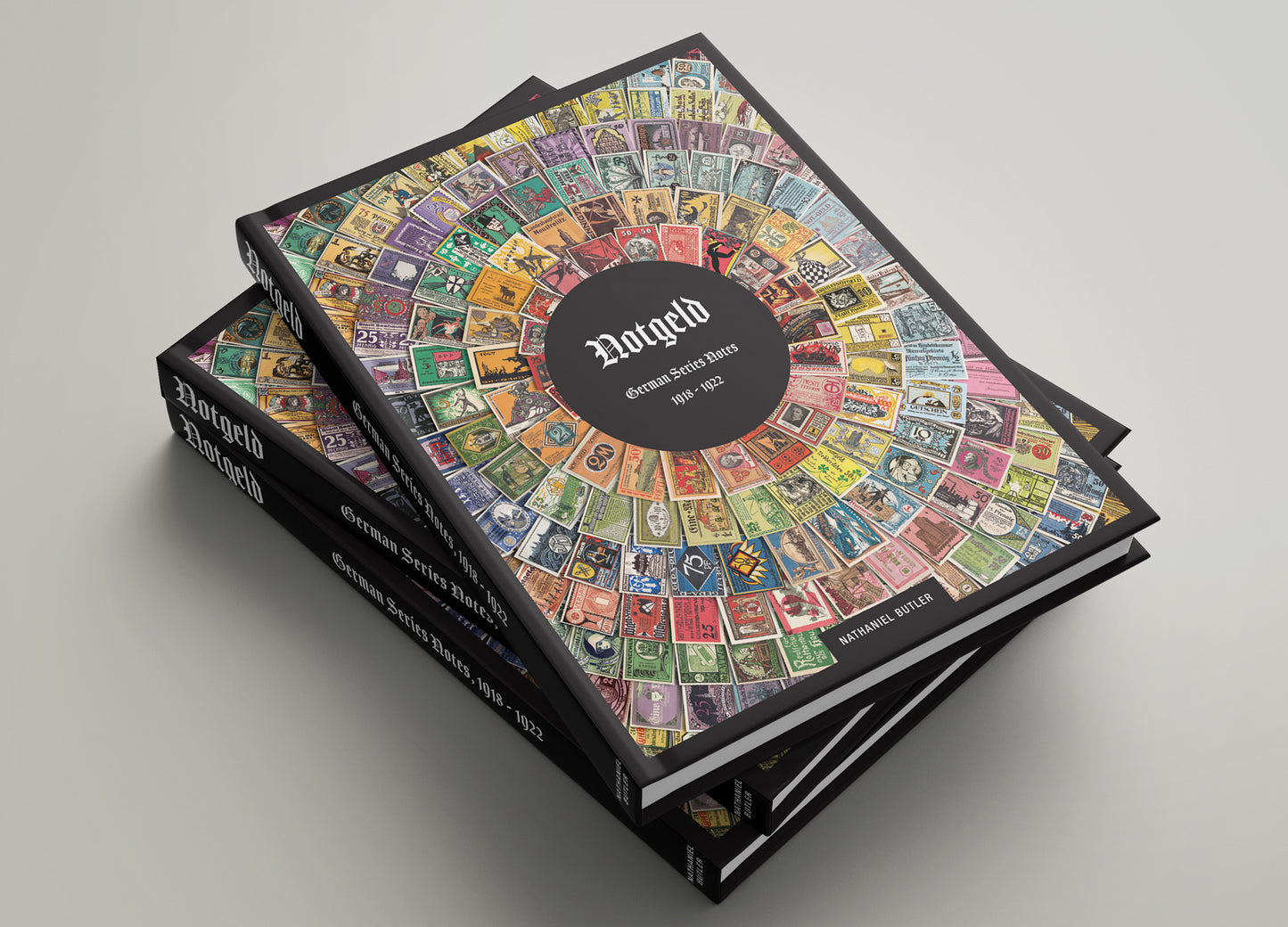 Superb Notgeld Catalog!
This 422 page guide to German Notgeld Series Notes (Serienscheine) has quality colored pictures of the obverse and reverse of representative notes from each issuing agency. Both Grabowski/Mehl and Lindman numbers are there for correlation with these major, detailed catalogs.
Lucid explanations of the seven categories of WW1 era German Notgeld, with helpful sections on colors, papers, watermarks, serial numbers, forgeries, and specimen notes, are here, along with abbreviations, a glossary, and current valuations in US dollars.
This catalog is well worth its cost, and it should remain valuable to collectors for many years to come.
Wonderful Resource
A truly beautiful resource. I have already been using it with success. Looking so forward to more of his work!
Notgeld: German Series Notes, 1918 - 1922
A fantastic "Must Have" book for your Serienscheine Notgeld collecting. Latest pricing, reference numbers, watermarks, variations, old & new states identifications along with great front and back detailed photos and additional issues that the other books don't have. AND, it's in English! Beautiful work!!!
Beautiful and informative
This book is beautiful, well-made, and contains a ton of useful information.
Useful
I found this book very useful for people like me who want to approach the world of notgeld collecting.